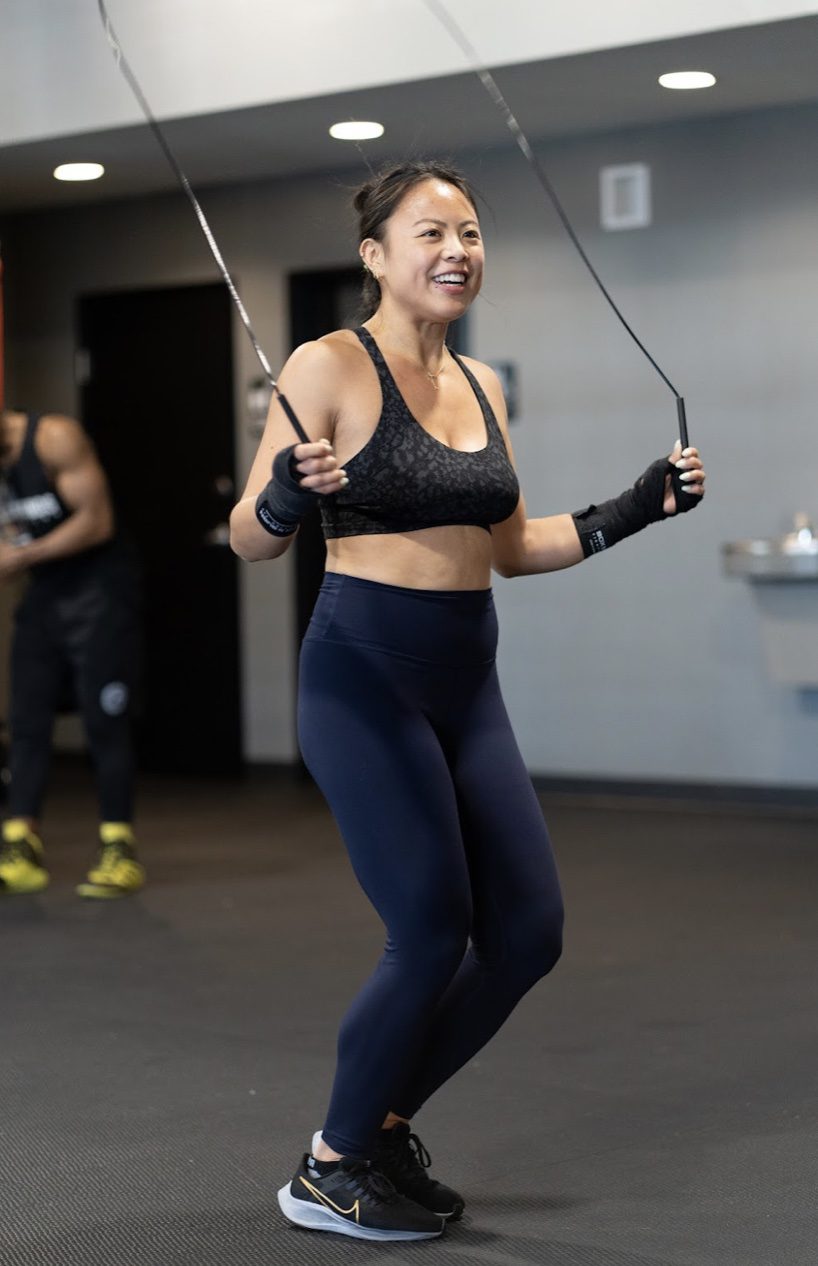 When you see or hear about boxing fitness, your mind may go to big burly men with boxing gloves on in a ring, super sweaty taking swings at each other. Or is that just me? What I found out from the team over at Legends Boxing (South Austin and Cedar Park) is that it is SO much different than that. Clearly, I just had the movie Rocky in my head. And it's not all about fighting, I think that is a pretty common misconception.
Boxing fitness is a full body workout! Abs, legs, strength, stamina – you're working it all during a boxing fitness class. And, you're not just working your body, you're working on your mind too. Your body and mind are working together as you duck, dive, throw punches and more.
We're seeing a rise in boxing fitness gyms – but it's not just men joining and reaping the incredible benefits. Women are jumping on this awesome workout trend as well! Don't get me wrong, I enjoy listening to my audio book and walking on the treadmill after the kids go to bed, but to get real results, we need to include both aerobic and anaerobic exercises. Getting the heart pumping and building endurance. Boxing fitness classes are awesome because they included both types of exercise – so you don't have to do a bunch of different kind of workout classes to achieve your goals.
Another plus, self-defense skills! Hate that this is even a thing, but you can never be too prepared. At Legends Boxing, you'll learn how to throw quick, strong punches and well as duck and block hits from others. Like mentioned above, you'll be strengthening your mind too – ready for whatever comes your way.
And while doing a workout may not always be your first idea of self-care, we often forget to put ourselves first – #momlife, am I right? Not only will boxing make you strong, but it is also good for your mental health and hormone health. Our hormones need a recovery phase when we work out and boxing fitness classes provide that recovery. With both high intensity training and strength training, boxing classes make a great workout for your hormonal health also. Taking time to fill your cup is important!
If all of that's not enough, boxing fitness will make you feel like a bad ass. I mean automatically putting on the wraps and gloves – you are going to feel a boost of confidence. First time you make contact with the bag? Boom – confidence skyrockets. You can do this!